Yoga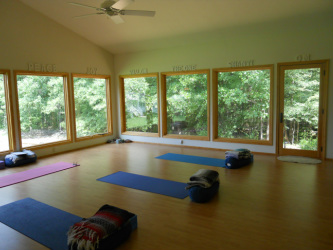 Yoga classes are designed to increase flexibility, improve breathing, and relieve stress. Gentle, Flow Yoga is taught as a system for building a healthier body, a calmer mind, and a stronger soul connection. In the style of Iyengar, many props are used such as chairs, blocks, bolsters, straps, blankets, sand bags, eye pillows, and wedges. Participants are free to skip any part of the activities and are expected to adapt the movements and postures as their bodies require. The activity is suitable for all ages and body types.
---
---
Shamanism


What is it?
Shamanism is an energy healing method practiced by indigenous peoples for thousands of years. In Western society, some practitioners are trained in the Peruvian Laika society's traditional methods by The Four Winds Society. As Ram Dass writes in Still Here, ….cures aim at returning our bodies to what they were in the past, healing uses what is present to move us more deeply to Soul Awareness, and in some cases, "physical improvement."

Healing the luminous energy field, which is what we do, can be effective for mental, emotional and physical healing. Keep in mind, though, we are not psychotherapists or medical doctors. We are shamanic practitioners. When we mend the energetic field, the body begins to heal itself. It may not be instantaneous, but often some improvement is immediate with more healing occurring over time. One session can start the process, but we are usually dealing with issues that are deep-seated and require additional work for complete cleansing. I will suggest "homework" that can be of great assistance. In addition, I often suggest three hour-long weekly sessions and request $75 for the set of three. But, I prefer to leave the compensation on a personal donation basis, including bartering! I will not deny my presence to anyone who needs me.

Who needs it?
Everyone!


The Yogatorium
To feel better, look better, and act better.
---
---